EkoNiva at Prodexpo-2021
15 April 2021 News from the Company
From 12 to 16 April, the international food trade show Prodexpo-2021 takes place in Moscow. Ekosem-Agrar is represented with the dairy products of the brand EkoNiva. During the exhibition a round table discussion took place where the first results and future perspectives of organic agriculture and production of organic food in Russia were discussed.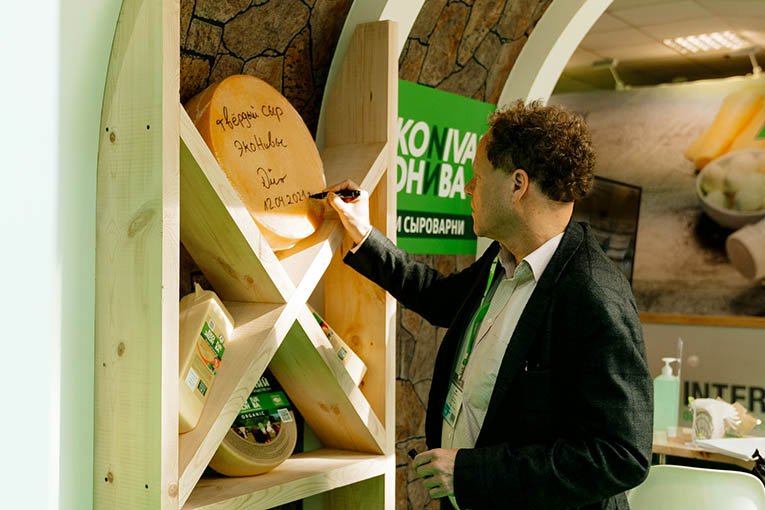 Prodexpo is the most important event for the food industry in Russia. For many years, the exhibition has determined the development vector of the domestic food industry and is the main platform for demonstrating product innovations.
"The exhibition opened on 12 April, a special day," says Stefan Dürr the CEO of Ekosem-Agrar AG and President of the EkoNiva Group. "Sixty years ago, Yuri Gagarin was the first human to fly into space. Our company always strives to be among the first and the best. We want to provide consumers with delicious and healthy dairy products. All are welcome to visit our stand."
The company is showcasing its entire product range from milk to yoghurt, including organic dairy products, at the fair. For the first time at Prodexpo, milk developed for the HoReCa segment is also being presented. In addition, visitors can taste EkoNiva cheese produced in our new factory in the village of Shchuchye in the Voronezh region.
Hard cheese and three types of semi-hard cheeses will satisfy the tastes of discerning visitors. Everyone will be able to find a cheese to their taste. After tasting the cheese, a cup of fragrant cappuccino with airy and still firm foam made from EkoNiva Professional Line milk is definitely worthwhile.
Taking time to drink coffee and talk to people... For example, about the prospects for organic food production in Russia. The panel discussion at the exhibition was attended by the Deputy Minister of Agriculture of the Russian Federation Maxim Uvaidov, representatives of the Federation Council and the state consumer organization Roskatschestvo, as well as pioneers of organic production in Russia.
The panelists praised the first results of the law on organic products, which came into force in January 2020. Russia now has certification bodies and its own quality seal, which is mandatory on the packaging of organic products and pushes "greenwashing" products off shop shelves. So far, 63 companies have been included in the state register of organic producers.
An important step is the qualified training of specialists. To this end, the relevant educational programs have already been set up at Russian agricultural universities. The focus is still on standardization, certification, marketing of organic products as well as consumer education. According to Deputy Minister of Agriculture Maxim Uvaidov, it is an important task to strengthen confidence in organic products.
"Domestic organic products should become a transparent and profitable business for farmers", says Maxim Uvaidov. "And for consumers both in Russia and abroad they should become a model of high quality."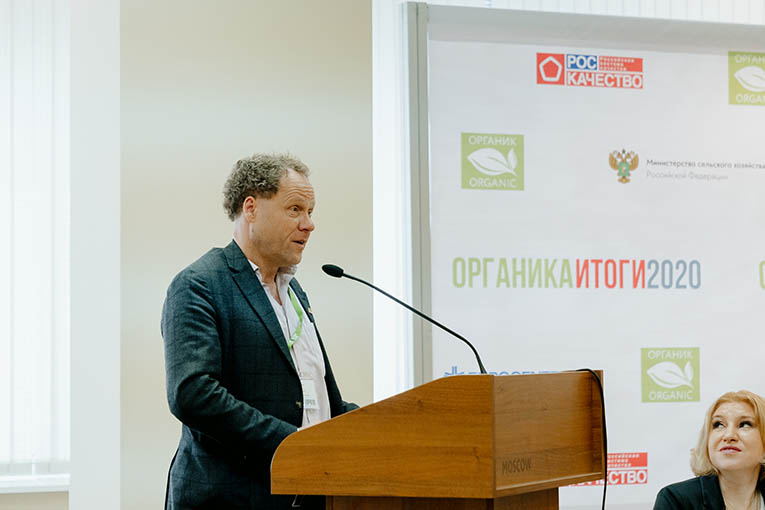 Stefan Dürr was introduced at the event as the "father of the organic sector in Russia". He reported on the long road of development, where obstacles are still encountered.
"We started developing organic farming back in the 90s," Stefan Dürr recalled. "We produced, certified and exported organic buckwheat to Western Europe. Then we temporarily abandoned organic farming. It was only in 2012 that we revived organic production on the farm Savinskaya Niva. The first organic products appeared in 2015."
Today, EkoNiva is one of the three largest milk producers in the world, producing 3,200 t raw milk per day. Of this, so far only 2 t is organic milk.
"We would like to have more," says Stefan Dürr. "But to achieve that, the market still has a long way to go!"
Despite the low volume of organic production, EkoNiva finds its buyers in the HoReCa segment. EkoNiva ORGANIC milk is in demand in restaurants and coffee houses.
"In coffee houses, baristas have the opportunity to talk to people and explain how conventional milk differs from organic milk," Stefan Dürr tells us. "When shopping in the supermarket, people are usually in a hurry and are confused by the labels 'organic', 'eco', 'vegetarian' or 'from the farmer'. I have nothing against these products, but most of them have nothing to do with organic production! I believe that organic products should be put on separate shelves and a large-scale advertising campaign should be created for consumers. This is where government support for producers is needed!"
The export potential of organic products was also discussed at the meeting. Many Russian organic producers have already been certified by the EU for export. Wheat, fodder crops and oilseeds are in great demand. Dairy products are also arousing interest.
"We see a lot of attention for organic milk in Southeast and Central Asia as well as in China and the United Arab Emirates," Stefan Dürr reports. "There is an interest in Russian organic products. It is necessary to develop them and achieve mutual recognition of certification between EU countries and Russia."